WREMO's giant poo raises awareness of emergency toilets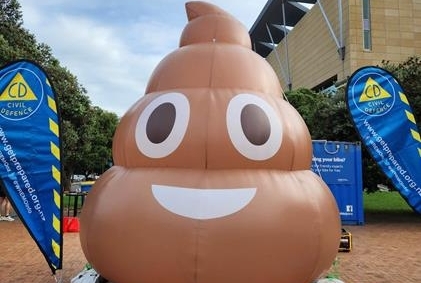 The 2011 Christchurch earthquake highlighted the vulnerability of sewerage systems to disruption during an earthquake. It showed how vital it is that we plan for this and that communities are prepared to manage their own wee and poo following a large earthquake.
A large earthquake on the Wellington Fault would result in considerable damage and lengthy outages to the wastewater system in the region. People may be unable to flush their toilets for one to three months following a large earthquake, and should be prepared to store their own waste for at least 30 days.
An emergency sanitation plan was collaboratively developed by the region's nine councils, Massey University, Wellington Regional Emergency Management Office (WREMO), Wellington Water, Health and Disability representatives, Ngāti Toa, and solid waste managers. The plan aims to encourage communities to prepare to manage their own wee and poo in an emergency.
For the Wellington region, two viable options were taken – either making a long-drop or a two-bucket toilet system – one for wee and one for poo. The plan also includes an option for those with accessibility needs or limited mobility. The plan is particularly unique as there are very few places across the world (if any), that have developed an emergency sanitation plan to this scale.
The resulting public education in May encouraged residents to plan what to do when they can't use their loo.
Emergency sanitation is a niche subject and not something many people think of as part of their emergency preparedness. So, part of the campaign strategy was to employ humour to lighten the awkwardness, along with a mascot in the form of a giant inflatable poo, (borrowed from New Plymouth District Council – thanks Taranaki!). "Poonelopee" took to the streets across the Wellington region to educate communities on how they could make an emergency toilet. 
The campaign had positive feedback from kids and adults alike, and was picked up by the AM show, The Post, The Edge, and a number of local newspapers.
Published: Jul 4, 2023, 11:12 AM