Approval of projects into essential infrastructure recovery programmes for 60:40 funding
Download a pdf version of this information (.pdf 175kb)
Project approvals
Ideally rebuild and repair projects, where feasible, should be approved as soon as possible into any Government financially supported essential infrastructure recovery programme prior to work commencing. This provides funding certainty for both the local authority and Government and establishes baseline programme costs.
In order for a project to be approved into the Government funded essential infrastructure recovery programme, a local authority must complete an Essential Infrastructure Project Summary Report and submit it to the National Emergency Management Agency.
This document is used to:
confirm that a project is eligible for Government funding in accordance with Section 33 of the Guide to the National CDEM Plan and work scope eligibility criteria and considerations;
provide cost estimates and project completion timeframes;
identify betterment funding components;
support internal Agency reporting and status reports to the Minister of Civil Defence; and
track individual projects through detailed design and construction.
National Emergency Management Agency officials will monitor and review project progress (both financial and non-financial) and provides assurance over any changes to final costs.
Project approval process
The flowchart below sets out the project approval process.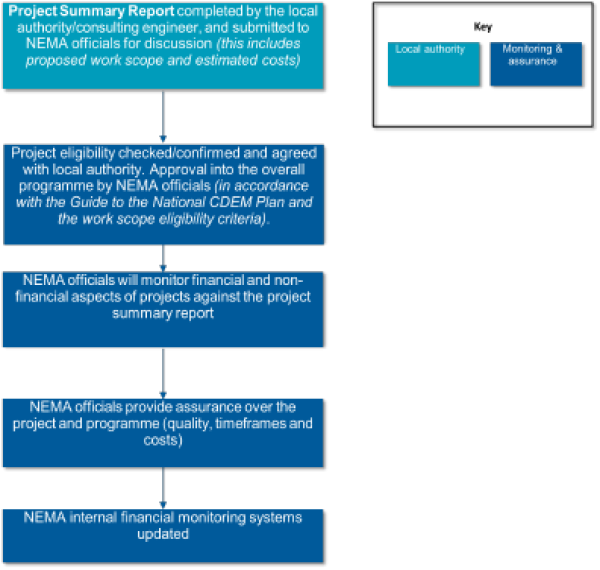 Click on image for larger version